With the Latest Remote Speaker Microphone, the Ex-RSM Aurelis BT, Ecom Instruments Present Another Significant Stride Forward in Hazardous Area Wireless Communication
(April 08, 2014)

ASSAMSTADT, GERMANY -- (Marketwired) -- 04/08/14 -- Ecom instruments, the global market leader and a full-service provider in the field of portable explosion-protected equipment, bring the use of a wireless Bluetooth speaker microphone to hazardous areas, including ATEX Zone 1, Class I, Division 1, Zone 2, Class II, Division 1 areas. With the world's first intrinsically safe remote speaker microphone, the Ex-RSM Aurelis BT, we have provided users with a device fully capable of connecting with a range of Bluetooth devices such as mobile phones to offer a range of new possible applications.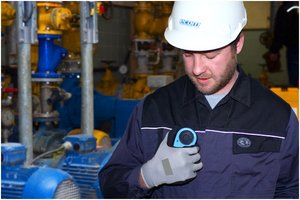 During activities where workers and technicians need both hands free and have to communicate at the same time, the speaker-microphone combination is the ideal solution. In contrast to a handset or headset, this hands-free device does not restrict the field of view or movement of the worker. Due to the high quality speaker and microphone, the Aurelis BT ensures accurate communication even in very noisy environments. Additionally, the device is also compatible with various headsets -- with and without hearing protection.
The Aurelis BT only weighs 180 grams and -- like all ecom products -- is extremely robust and designed for endurance in rugged operating environments. It can be attached to a worker by a 360-degree clip, which holds the device in the correct position at all times. The unit can be set to full or half duplex, allowing listening into on-going communication while the mobile phone or wireless device remains on the belt or up to 10m away. Thanks to the Aurelis, activities such as measurements and other tests may be performed while maintaining permanent contact with the control room enabling the technician to receive direct instructions or feedback on their work.
Compatible with all Bluetooth enabled mobile devices and with various microphone and headset variants, the Aurelis BT opens up completely new ways of communication and can be used as a replacement for IP phones. In connection with a mobile phone, the speaker-microphone can be used hands-free in vehicles. The Aurelis BT makes PDAs, tablets, notebooks and other devices capable of voice communication, allowing employees who are not typically equipped with an intrinsically safe telephone to use the speaker for communication.
Brief profile of ecom
Globally, ecom instruments is the leading provider of mobile devices for use in explosive areas, whether including chemicals and petrochemicals, pharmaceuticals, oil and gas production, mining or energy and the environment. For over 25 years, ecom has set the standards and gathered comprehensive expertise in explosion protection for daily use in hazardous industrial areas across the globe. In its four core disciplines of communication, mobile computing, portable hand lamps and measurement calibration, ecom instruments offer a huge variety of innovative and proven solutions.
Further information on ecom instruments can be found at: www.ecom-ex.com
Image Available: http://www2.marketwire.com/mw/frame_mw?attachid=2562661

Press contact:
ecom instruments GmbH

Christian Uhl
Director Marketing
Phone: +49 (0) 6294 4224 0
Fax: +49 (0) 6294 4224 100
E-Mail: christian.uhl@ecom-ex.com
Internet: http://www.ecom-ex.com


harvard - good relations group GmbH

Hermann Aulinger
Account Manager
+49 (0)89 / 53 29 57 46
hermann.aulinger@harvard.de
www.harvard.de

ecom instruments GmbH
Industriestr. 2
D-97959 Assamstadt
Internet: www.ecom-ex.com
E-Mail: sales@ecom-ex.com


Copyright @ Marketwire
Page: 1
Related Keywords:
Computers/Home Office,Communications,Digital Toys,Tablets,Notebooks,Speakers,tablet,Tablet,Germany,Marketwire,Communications Technology,Other,
---